The First Migration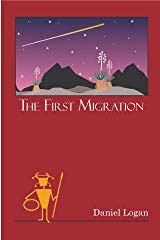 NASA time travel research leads to the discovery of our human origins (Book 1, Ancient Secrets series).
Synopsis
Dr. Darren Stewart, world-renowned physicist in charge of NASA's massive time travel complex in the White Sands Missile Range, needs to get a life but has no idea how—until he meets White House deputy press secretary Tracey Loring. After a weekend rendezvous in Santa Fe, a romance blossoms between the two.
Concerned that the successful development of time travel capability represents a threat, members of an advanced civilization from a distant time kidnap Darren. Under the authority of the president of the United States, Tracey assembles a skeleton crew and activates NASA's experimental facility to attempt a rescue. Darren and Tracey are reunited but become entangled in a conflict between two civilizations, each competing for its own survival.
In their endeavor to broker a peaceful resolution, Darren and Tracey unravel the mystery of UFOs, unlock the secret of the pyramids and discover the missing link to our human origins.